Detailed Information
Your present position: Detailed Information
SUBMERSIBLE FOUNTAIN PUMP

MODEL HJ-1123
VOLTAGE 110V/220V/240V
FREQUENCY 50Hz/60Hz
POWER 18W
H-MAX 1.7m
OUTPUT 1400L/h
WEIGHT 1.0Kg
DIMENSIONS 180*130*450mm
Feature:

1. Multifunctional design-----pumping, filtering and fountain 3 in 1.
2. High performance standard asynchronous motor with new design, low noise, energy saving and waterproof
3. Special design of the rotor, wearproof ceramic shaft, long lifetime and suitable for land amphibious.
4. Multiple discharge connector for various pipes.
5. Personalized fountain heads with various designs, supply ponds with oxygen in the fashionable way.
6. Have been equipped with the regulator which can be pulled back and forth, easy to adjust the height.
7. Various shapes of fountain pipes are available. the size and height of beautiful fountain can be adjusted as you like.
Name : HJ-1123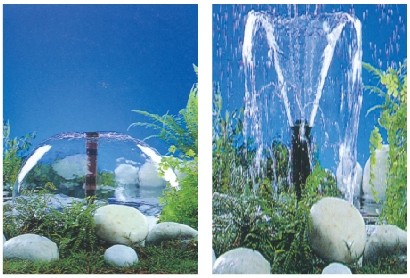 Model Voltage Frequency Power H-max Out-put weight diension
HJ-923 110/220/240v 50HZ/60HZ 12W 0.95M 950L/h 0.76kg 170*120*450mm
HJ-1123 110/220/240v 50HZ/60HZ 18W 1.7M 1400L/h 1.0kg 180*130*450mm